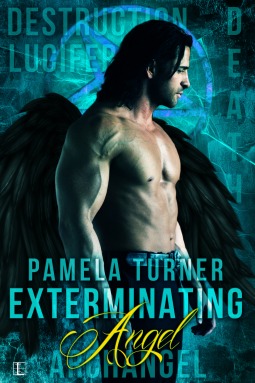 Title: Exterminating Angel
Author:
Pamela Turner
Publisher:
Lyrical Press
Pages: 161
Source:
Netgalley
Goodreads
|
Amazon
|
Rating:
Making a deal with the Devil is the least of his problems. Zaphkiel, a chain-smoking, hard-drinking archangel, never intended to unleash the sun demon upon the city. Bad enough his boss wants him dead, and this recent crime is the perfect excuse. The timing couldn't be worse. Somehow, Zaphkiel's executed lover, Caliel, is alive and reincarnated as Sean. Zaphkiel is thrilled to be reunited with Caliel again, but will his lover feel the same when he learns Zaphkiel's darkest secret?

Hired by Lucifer, Sean wants nothing more than to fit in. But how can he compete when the Devil's friends include archangels and a Tarot reader, and he was born without special abilities? Or so he believes. The Tarot hints there may be more to him than he realizes.

Recruited by the Devil to find the two pentacles sun demon Sorath plans to use to destroy the universe, Zaphkiel and Sean find themselves pawns in a game of power and control. If the archangel gives his boss the pentacles, Ophaniel will overlook his crime. But Zaphkiel knows he can't trust either Ophaniel or Sorath, and the deal he's made with the Devil could cost him not only his life, but also the lover he believed gone forever.

M/M sexual practices, occult themes, some violence, graphic descriptions
ARC from Netgalley in exchange for an honest review.
I am huge fan of books with supernatural characters so I was looking forward to reading the Exterminating Angel. I was so disappointed though. It was so hard to get into the story because half of the time you're basically trying to comprehend what's happening throughout the story. So overall, the book wasn't for me with confusing story lines, forgettable plot and no chemistry between the characters. At one point I was thinking of just ditching this book and not finishing it.